資訊圖表
>
10 Killer Infographics That Perfectly Explain Big Data
10 Killer Infographics That Perfectly Explain Big Data
What's big data? 10 killer infographics that explained it to you.
1 – What is big data?
A simple infographic that quickly explains the basic meaning of big data.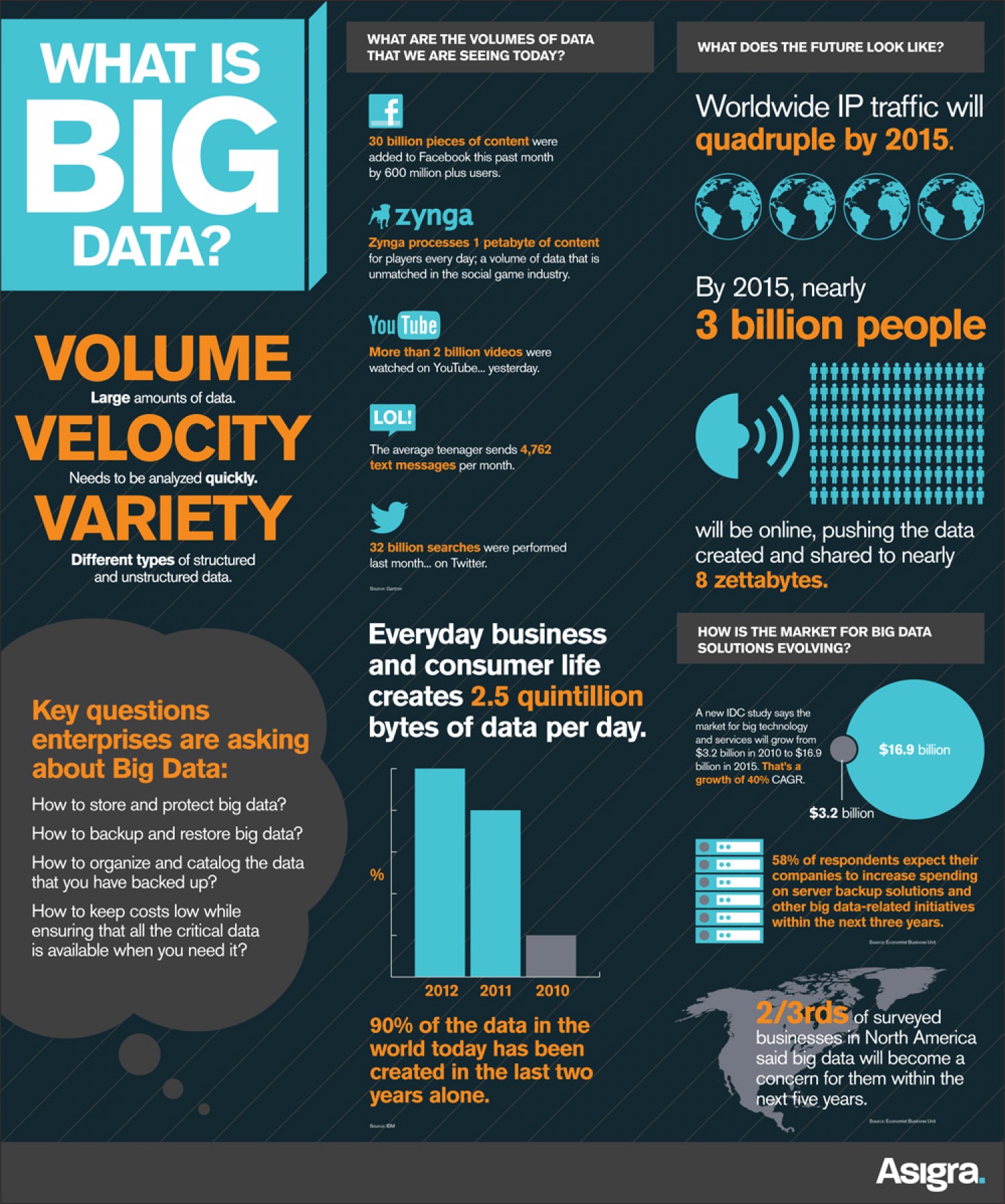 2 – The retailers guide to big data
An infographic that explains to retailers what makes big data so big, details about what types of data is most relevant to retailers, challenges retailers may find when using big data, and what goals retailers should set for themselves with big data.

3 – The value of visualization
A well produced motion graphic that explains the value of data visualization.

4 – The future of business data
A visual infographic from the Financial Times highlighting the effect of big data on the business of the future.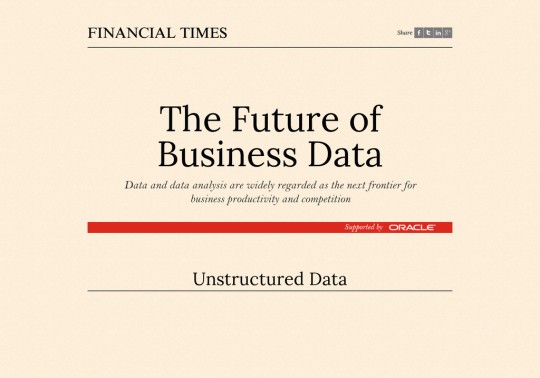 5 – Big data, big returns
This infographic explains how data is the most important asset a company has. But the more data any company has, the bigger the challenge becomes. Information offers companies a look at how to realize big returns from big data.


6 – How data found it's home in the cloud
150 years ago, the first transcontinental telegraph was sent, forever transforming how data was communicated. This shift away from physical delivery began the data revolution, claiming the Pony Express as its first victim just two days after that first telegraph. Fast forward to 2011. You now have applications, social networks, file sharing, teleconferencing, music, videos, customer data, and business insights – all hosted in the cloud. Whether you are managing data at work, home, or on a mobile device, chances are that you're both managing and communicating in the cloud.

7 – Data lovers vs. data haters
An infographic that illustrates why some love data, and others hate it.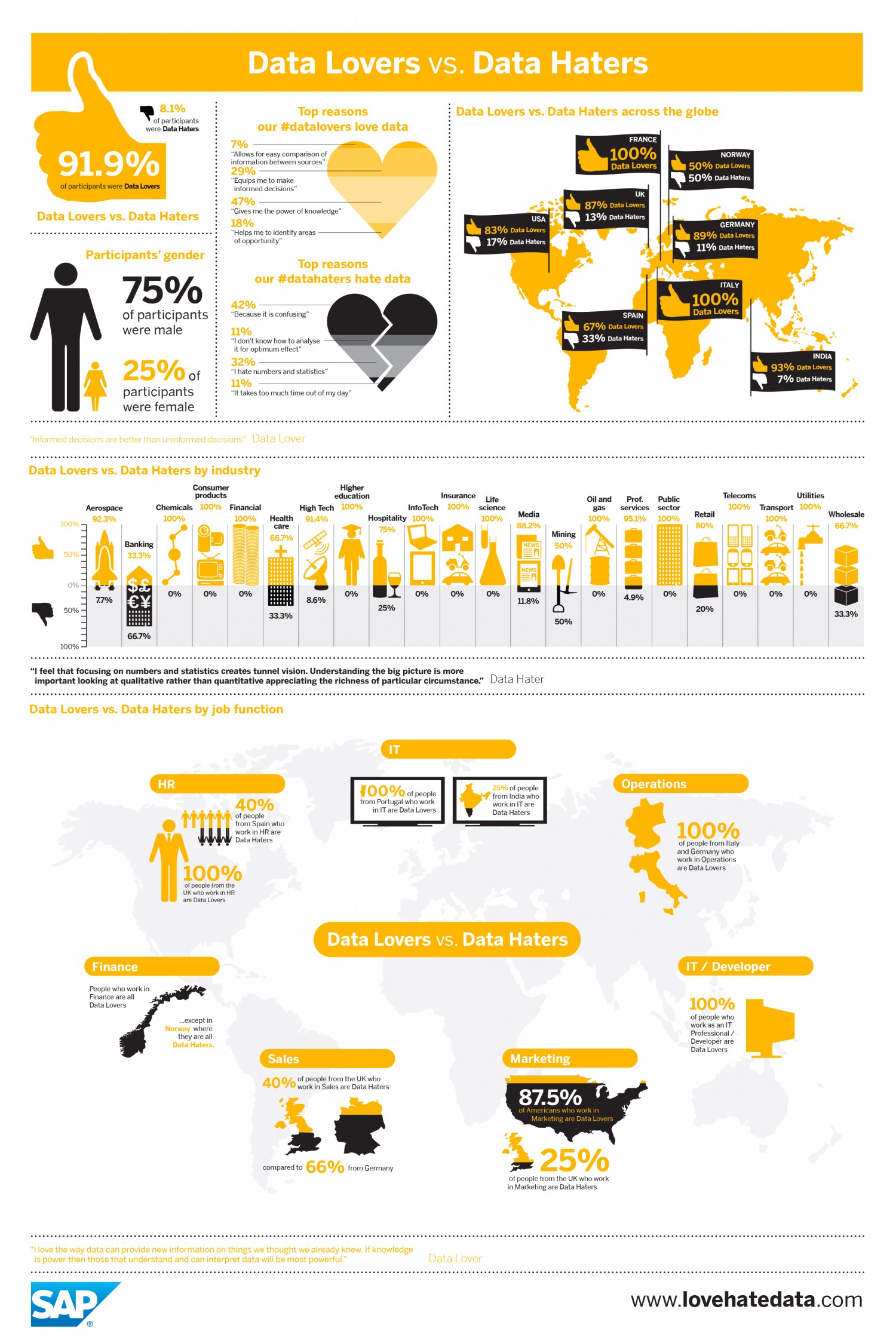 8 – Africa's mineral wealth
An infographic that shows what the data center of the future may look like and how IT pros are managing today's data centers.


9 – 5 tips to start using data
About ninety percent of the data in the world today was generated in the last two years alone, and that number is growing as more people move their lives & businesses online. Big data includes things like social media updates, pictures and videos, credit card purchase records, customer behavior, click streams, log files, audio files, and demographic data, to name some. Whenever someone posts to Facebook or opens an email, they are creating a data point. Businesses face the challenge of finding ways to easily store, organize, and analyze data. Forbes calls this the "irony of the information age" because we have "so much data, and so little business intelligence."


10 – Exploding data
This inforgraphic shows that the amount of digital data in our world has been exponentially growing in just a few short years. Big data has the potential to become the next frontier for innovation, competition and profit.

| | |
| --- | --- |
| | By Chris Hubbard |
獲得更多開店相關數據😉
喜歡我們的文章嗎? 訂閱我們的電子報,掌握更多優質地理數據資訊。