Thailand is S.E. Asia's capital of convenience stores.
The evidence lies in the numbers. Convenience stores can now be found at every corner in Bangkok and major provinces. Each store serves 3,000 households nearby today, compared to 10,000 in 1989, when the first convenience store was opened in the country.
The Thai Retails Association reported there were 12,246 convenience stores nationwide as of the end of last year.
Surachet Kongcheep, senior manager at Colliers International Thailand, said 7-Eleven commands the lion's share in the convenience-store market, with around 69%, or nearly 7,000 branches, followed by Tesco Lotus Express, with more than 850 branches or a 8.6% market share.
But that does not stop the two giants from gaining more ground. The operators of 7-Eleven and Tesco Lotus Express plan to increase their branches by around 500 and 200 per year, respectively.
Market Share of Convenience Stores & Minimarts (2012)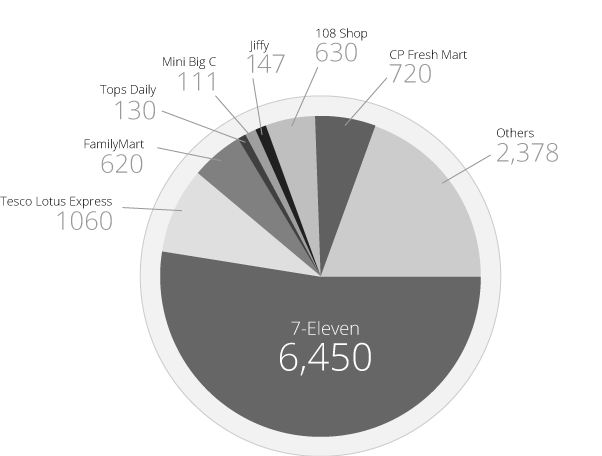 According to plans, there will be 10,000 7-Eleven stores by 2018, 3,000 FamilyMart outlets by 2017 and 850 Mini Big C stores by 2016.
This year, 7-Eleven plans to open 550 outlets across the country while FamilyMart, Mini Big C and Tops Daily aim to open 200, 150 and 50 stores, respectively.
But the relentless expansion of the existing players does not stop new local and foreign chains from eyeing a piece of the lucrative market. Their focus, however, will be on health and beauty products.
A market analyst projected the number of convenience stores in Thailand would reach 30,000 in the next 5-10 years.
Steady economic growth, higher consumer purchasing power and the proliferation of high-rise buildings and condominiums along the mass transit routes have created more opportunities to develop small retail stores.
The younger generation of consumers have had the largest influence in this rapid rise of convenience stores across the country. Their acceptance and embrace of modern retail has provided ample demand for small format retailers to capitalize on. You can learn more about from our article "
5 things to know about Chinese consumers.
"
Like many countries in Asia, it's the shift in behavior of the younger generation that has caused a massive change and opportunity for local and international brand operators alike.
Ultimately, Thai consumers will benefit from the increased competition, as it will force convenience store operators to improve store formats, decoration, and general merchandising to a more international standard and quality.
Thai consumers are sophisticated and have money, and they're looking for ways to save time doing their weekly shopping so they can spend more time and money on other activities.
| | |
| --- | --- |
| | By Joshua Roberts |
獲得更多開店相關數據😉
喜歡我們的文章嗎? 訂閱我們的電子報,掌握更多優質地理數據資訊。