觀察報告
>
Taiwan Shopping Center Industry Trend
Taiwan Shopping Center Industry Trend
Taiwan – Awake but Still Sleepy Asian Tiger
Economic Overview

Although Taiwan's economy has been struggling for the last few years, retailers still see new opportunities in the market every day. According Taiwan's Ministry of Economic Affairs, year-on-year retail sales have averaged a sluggish growth of 2 percent with a slight dip of -2.14 percent in March 2013. Taiwan's trade-dependent economy and relatively weak domestic consumption has contributed to this mediocre performance.



Retail Industry

Despite constant pessimism over Taiwan's economy, the overall retail (includes convenience stores, department stores, supermarkets, and other general retail outlets) revenue trend has continued to rise as consumer confidence levels have risen those prior to the global recession. The department store segment grew by 3.18 percent, the supermarket segment 4.51 percent, the convenience store segment 0.03 percent, and the hypermarket 1.83 percent between 2011 and 2012.
Also, the number of tourists from China more than doubled from 2009 to the end of 2012 with 35 percent of all visitors coming from the region. Visitors from Hong Kong and Macau grew more than 24 percent in 2012 compared to 2011. Retail revenue growth, recovering consumer confidence, and visitor influx should fuel an optimistic perspective of Taiwan's retail market in the near future.

Taiwan has one of the world's highest price-to-rent ratios, but prime retail rent will likely continue to rise owing to limited supply of locations in Taipei. Taipei is typically the first stop for brands opening a flagship store when entering the Taiwanese market. However, Taipei's prime retail locations are extremely limited to a few commercial streets and key department stores. Among the most expensive streets is Zhongxiao East Road with an average monthly rent of more than NT$35,000 per ping (roughly US$32.5 per square foot per month). Although Zhongxiao East Road is the most expensive commercial district in Taiwan, Cushman & Wakefield ranked it only the 31st most expensive in the world. Since western economies have slowed, many brands especially luxury ones have set their eyes on Asia with Taiwan as one of their main targets. Louis Vuitton, Burberry, Dior, Uniqlo, and Zara have all opened stores in the market.


Retail Shopping Segment
Taipei's Changing Landscape
There are many development projects being executed in the country, especially in Taipei. Following the development of the Xinyi District and the completion of the MRT's blue line, Taipei's prime retail area has shifted from the west of the city to the east over the past two decades. Land in Taipei has become increasingly scarce as a result; thus, the trend is to co-develop properties with Taipei Metro.
 
Traditionally, department stores were operated by groups such as Shinkong, Far Eastern, and Breeze. However, many construction companies have started to diversify their portfolios by operating department stores on their own owing to the IFRS accounting system change. In the past, construction companies split up and record revenue across accounting years. But now these companies must record it after the project is completed which possibly creates large fluctuations in yearly revenue and additional risk to their stock. Thus, these companies started to operate hotels and shopping centers to create a more stable income stream to mediate the fluctuations. Companies such as Ruentex and Lihpao have cooperated with the government and are now operating several department stores such as City Link Songshan and St. Ignatius Plaza which were co-developed from government property.


Xinyi District
Xinyi District, host of the fabulous Taipei 101, is one of Taipei's most recognizable areas. This area emerged in the mid-1990s with office buildings, retail destinations, and luxury residential developments. It's home to the majority of high-end retailers and has the highest density of department stores and shopping malls in Taiwan, including 4 Shinkong Mitsukoshi department stores, Bellavita, and the Taipei 101 shopping mall. The latter is considered a must-visit retail location for tourists, especially those from China.

Next to Shinkong Mitsukoshi A8 is Momo A10 department store. It was supposed to open later this year, but won't open until Q1 of 2014 owing to an unexpected low demand for its retail space.

Breeze Center A3 is scheduled to open in 2015. Bershka, Weekday, Monki, Topshop, Old Navy and other low-cost apparel brands will set up shops here.
Nangang District
Taipei Pop Music Center is scheduled to open at the end of 2015. Challenging the limitations of traditional performance space, the center will consist of several mixed-use spaces woven together into a dynamic, multi-purpose venue. Three monumental elements – the Main Hall, Hall of Fame, and Industry Shell – will symbolize the principal uses and attractions of the complex, making it a powerful representation of Taiwan's pop music industry worldwide.

The Nangang Yard project is an unconventional one that's coming up in Taipei. It's a great example of refurbishing an abandoned property that's mostly owned by the government. This is part of the Executive Yuan's i-Taiwan 12 Projects to improve the environment of the Nangang District. The Department of Interior is actively seeking renewal project bidders. The major part of this area is classified as industrial, but is scheduled to switch to commercial by the end of this year.
District Lifestyle Intensity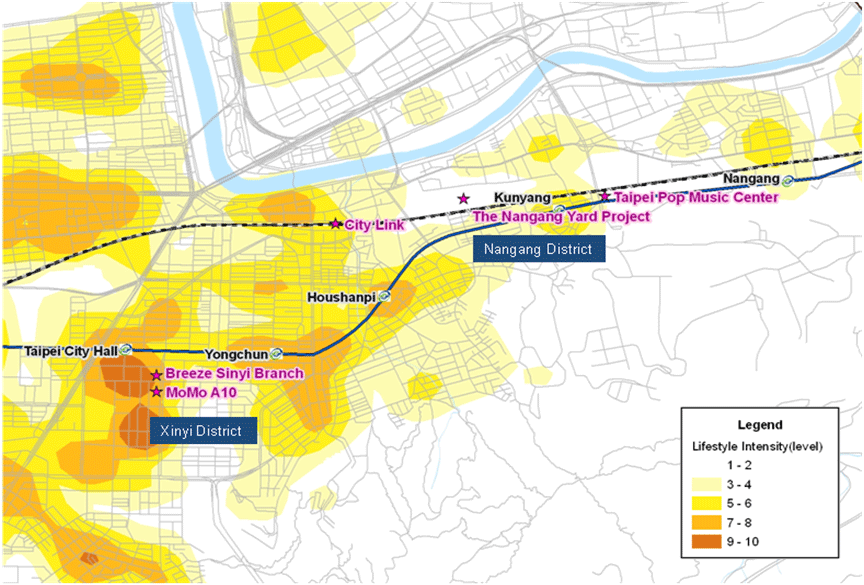 District Business Intensity
Songshan District
Eslite's Songyan store is scheduled to open on August 15. It's positioned quite differently from other department stores since it's a fusion of Taiwanese literature, artistic films, classical music theaters, bookstores, small toys and creations, vinyl records, as well as themed restaurants and bakeries.
Other Areas
Zhongshan North Road is known for its luxury brands with Louis Vuitton, Gucci, Prada, Yves Saint Laurent, and Coach all having flagship stores along this road. Japanese tourists also favor this area for its hotels.
The Taipei Main Station area was one of the earliest developed retail areas in Taipei. It benefits from being the center point of the convenient Taiwan Railway and MRT networks. Taipei City Hall has also recently released plans to develop a mixed-use project which includes a rail station to the airport, a shopping mall, offices, and hotels in a bid to rejuvenate the area and draw international and domestic retailers back to this traditional retail node.

Ximending continues to attract the younger generation between the ages of 13 and 22 with its entertainment including movie theaters, karaoke, food stands, and shopping. This area also appeals to independent travelers from Hong Kong and Macau with its close proximity to convenient transportation networks and budget hotels.
District Sales & Foot Traffic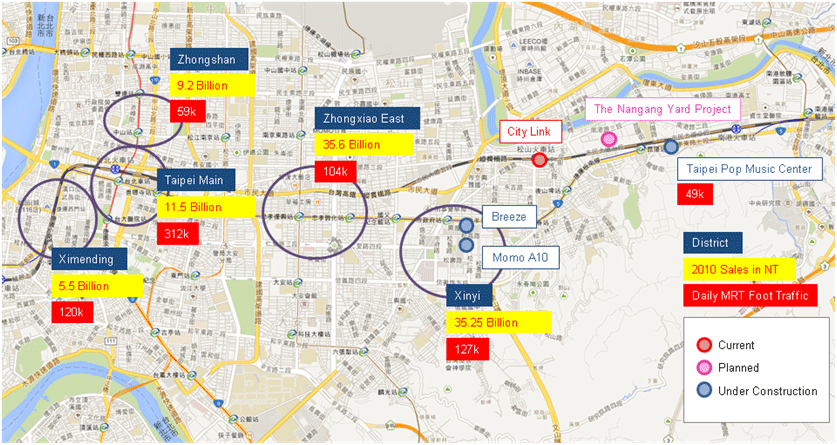 Forecast

There's no doubt about Taiwan's economy and its future development in the next 5-10 years. Recently, the government presented a budget of almost 4 trillion NT for infrastructure, urban renewal, and new area development within the next 8 years. A portion of that will aid the redevelopment of old industrial zones via projects like the Nangang Yard. The landscape of Taiwan is definitely changing, especially in Taipei. Finally, construction companies are pushing sustainability and this trend is likely to continue.
| | |
| --- | --- |
| | By Bruce Berkman |
獲得更多開店相關數據😉
喜歡我們的文章嗎? 訂閱我們的電子報,掌握更多優質地理數據資訊。