觀察報告
>
The coming era of flying commercial drones
The coming era of flying commercial drones
Future uses of drones in research, rescue and security missions
The use of flying drones has been increasing in popularity since 2014. Drones is designed to carry a high resolution camera to represent the eyes in the sky. However, drones' capability will not only be able to capture beautiful aerial shots but also help human in many fields, involved into our daily life very often.
Drones carryon items might be flexible, such as HD camera, thermos-scan camera, night vision camera, x-ray scanner, GPS, buzzer, collection arm, flash light, metal detector, storage space for medicine, extinguisher, farm chemicals, cell internet tower or identifier.
As for the extended applications of commercial drones, there could be classified as 5 major areas.
Nature Geography exploring/surveying – Get a drone shot of huge potholes, sinkholes and ancient monuments which might be potentially dangerous to explorers.

City Scan – With high resolution camera and software integrations, researchers can build 3D smart city models in a cost-effect way.

Observing– Whale watching, volcano monitor, and archeology research.

Remote assistance of medical services response to car accidents – Doctor can tell ambulance staff how to deal with serious conditions immediately to save lives.

Aircraft accident searching – Locate crash site day and night to facilitate following rescue mission.
Flooding rescue – Locate trapped people and get them out of high waters.
Missing people or lost pets search tracker.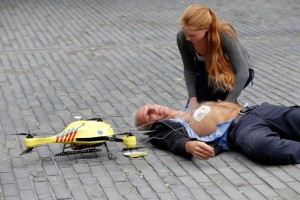 School monitor –With thermos-scan camera, x-ray scanner, night vision camera and metal detector, flying drones can easily detect gun and find out intruder in the campus.
Prison monitor – Avoid prison break.

Vessel, Coast Guard, Border Guard security mission – Drones help to detect potential pirate, stowaways, smugglers, drug dealer, and criminal activities.

Airport bird management – Along with monitoring birds and wild lives activities, drones use carry-on buzzer loudspeaker to drive away birds to preserve the surrounding environment at airport.
Power lines, oil lines and construction work monitor– Identify the exact leak location while problem occurring for faster response times to save costs.
Police drones – Track theft, high speed chase, drug dealer/gang crime activity, neighborhood watch, parolee monitoring.

1.
Featured image
DRONELIFE.com, The End of the Dronesless World As We Know It: Will We Feel Fine?, by Jason Reagan
2.
Air ambulance drones
Air Ambulance Weekly, Will Air Ambulance Drones Ever Fly the US Skies?
| | |
| --- | --- |
| | By Johnny Lin |
獲得更多開店相關數據😉
喜歡我們的文章嗎? 訂閱我們的電子報,掌握更多優質地理數據資訊。